Arts performance in Beijing marking 60th anniversary of Sino-Cuba diplomatic ties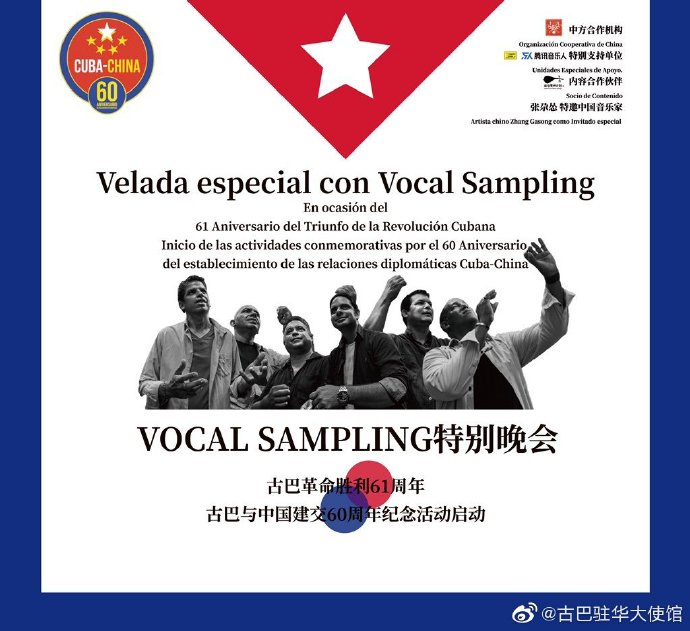 Poster of the performance. Embassy of the Republic of Cuba in China held a special arts performance to commemorate the 60th anniversary of the establishment of diplomatic relations between the People's Republic of China and the Republic of Cuba, Jan. 8, 2020. (Source: Embassy of the Republic of Cuba in China)
BEIJING, January 8(Guangming Online) —Embassy of the Republic of Cuba in China held a special arts performance to commemorate the 60th anniversary of the establishment of diplomatic relations between the People's Republic of China and the Republic of Cuba on Jan. 8, 2020.
China and Cuba are good partners that sincerely trust each other, and the two peoples have cultivated a deep friendship. Carlos Miguel Pereira, Ambassador Extraordinary and Plenipotentiary, and Assistant Foreign Minister Qin Gang attended this celebration and delivered a speech respectively. They said China and Cuba should work together to further boost bilateral cooperation in 2020, and also emphasized the fruitful results and positive effects of the National Music Revival Campaign.
The National Music Revival Campaign is cofounded by 13-Month Culture Communication and China Record Group. Aimed at "Telling China's stories through music to the outside world", the campaign seeks to improve the creativity of traditional Chinese music as well as advance cooperation between China and other countries along the Belt and Road.
Two significant cooperative artists of the National Music Revival Campaign, Cuba's Vocal Sampling and China's folk musician Zhang Gasong, performed for this event. Wildly welcomed by audience of various backgrounds, this audio-visual feast is also the opening ceremony of a series of celebrations.
[ Editor: ZY ]